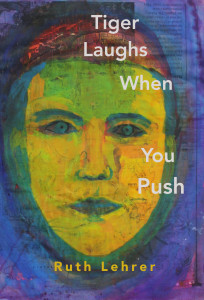 Hooray! My poetry chapbook, TIGER LAUGHS WHEN YOU PUSH, semi-finalist of the Charlotte Mew Chapbook Contest, is available from Headmistress Press.
Tiger laughs when you push / She already has dirt with her donut / and knows the cage is cardboard. The poems in Tiger Laughs When You Push are full of wit, lyric ingenuity, and imaginative acuteness. Heartcracked, I need cereal lowjack / fruit GPS / to get out from under / the cheesy cheers. Ruth Lehrer's virtuosity for the use of detail, for image, for sound – is unique and a great great gift to encounter. These poems are insightful and provocative. They are marvelous.
— Emily Pettit, author of Goat in the Snow
From a mother who sends her daughter a "napkin of rotted teeth" to a parrot that squawks in "lilting Lithuanian" to Eden who "squatted menstrual blood paintings" the poems in Tiger Laughs When You Push constantly shock the reader with original imagery, startling language, keen observation, and bigness of heart. And if that wasn't enough, dayenu, the lines are scattered with a bagel here, a bialy there, cheese blintzes, hot pastrami, applesauce, sour cream and more. These poems made my mouth water and left me hungry for more of Ruth Lehrer's fine poems.
— Lesléa Newman, author of I Carry My Mother
My poems and stories have appeared in Jubilat, DecomP, Zig Zag Folios, River Poet Journal, Incessant Pipe, OddBall Magazine, The Blue Hour Magazine, Stonewalls II, Trivia: Voices of Feminism, So To Speak: Feminist Journal of Language and Art, Off the Coast, Monkeybicycle, Everyday Genius, Biostories, Meat for Tea and Wordgathering. Co-author of the poetry chapbook, The Principles of Fraying (Factory Hollow Press.) My novel BEING FISHKILL was longlisted in both the Mslexia Novel Competition and the Bath Novel Award.
Selected poems available online:
Water Damage (print and audio)
I Don't Believe in Marriage (print and audio)
Animal Cracker (print and audio)
One Light Short of a Lit Grill
Suitcases Always Want to go to Europe