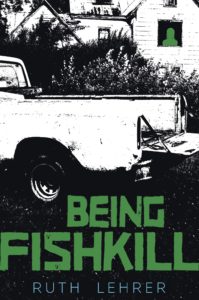 "My mother named me after a New York highway sign,
passing through, passing by,
not even stopping to squeeze out my blue body…"
Set against the stark reality of an impoverished rural landscape, poet Ruth Lehrer's debut novel, BEING FISHKILL, offers a stunning, revelatory look at what defines and sustains "family."
When Fishkill Carmel meets the eccentric, fearless optimist, Duck-Duck Farina, her life begins to change – maybe too much, definitely too fast. Fishkill had forged an impenetrable, don't-mess-with-me identity to cope with years of abuse, neglect, and hunger. If she lets her guard down now, how will she deal with the hard times ahead that are all but guaranteed for someone like her?
Just as it does for Fishkill, meeting Duck-Duck Farina and her mother Molly will leave readers forever, deeply changed.
Coming November 14, 2017 from Candlewick Press.